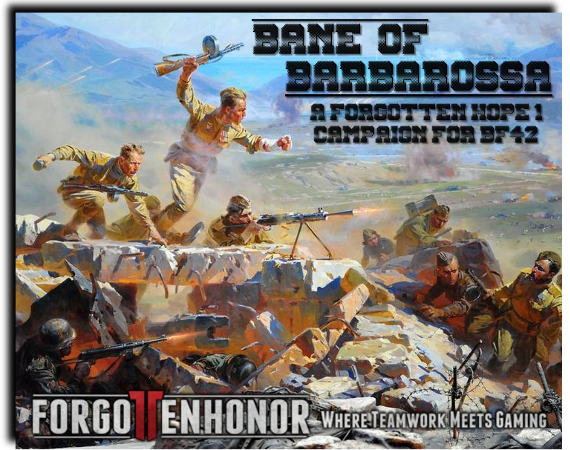 June 22, 1941, a date that would likely change the fate and political landscape of Europe forever. Nearly 4 million Axis soldiers, comprising of armies from Germany, Italy, and Romania violated the precarious nonaggression pact between Germany and the Soviet Union by launching a full invasion of the latter. Finland and Hungary would join suite in the follow weeks. Operation Barbarossa would entail one of the largest invasion forces in human history. Battlefields such as Stalingrad, Leningrad, Moscow, Sevastopol, and Kursk would become synomynous of the gore, devastation, and suffering of the Eastern Front.

In this campaign, you will get the choice of serving as a German soldier in the Ostfront, attempting to defy Napoleon's legacy, or as a Red Army soldier, fighting a crucible of national survival in the Great Patriotic War.

Trailer:
https://www.youtube.com/watch?v=f4V66HHNGyw
Experience a balanced and exhilarating Forgotten Hope 1 campaign with:
* A continuing legacy for Forgotten Hope 1.
* A historical virtual simulation of the first 2 years of the Eastern Front of WW2 including combined arms operations between infantry, artillery, tanks, planes, and boats and more. Change history by taking Stalingrad, or by holding the Fascists at the Russian frontier.
* Over 13 grueling battles throughout the western Soviet Union, from the marshes of Belarus to the Volga, from Leningrad to Rostov.
* Played entirely on the highly acclaimed Forgotten Honor minimod, which exclusively features maps designed for large-scale tournament play.
* 2 sides led by experienced veterans with teamwork oriented armies employing strategies and co-operation with promotions and rewards for your achievements.
* New friendships with likeminded people from all over the world
* It is free and everybody is welcome!
What is a campaign?
A campaign is a series of connected battles where we recreate the timeline of the war. Here at Forgotten Honor it also means teamplay and organized gameplay. Campaigns take about 8-10 weeks and every Saturday we will have one 4-hour battle. All battles are counted towards the final score which determines the army that won the overall campaign.
Every army has a training server to use during the week for scouting and practice, as well as their own Teamspeak channels and locked sub-forums (we call them barracks) for communication and entertainment. Everyone can participate in all weekly activities and events as much as they want!
About Forgotten Honor:
Forgotten Honor is an international gaming community that has a great amount of experience in arranging online events for games. Founded in 2004 by several players who wanted to organize ''teamwork'' emphasized battles for video games, Forgotten Honor has been growing until becoming one of the leaders in online events market. Nowadays hosts several tournaments and campaigns for different games, organizes multiple events, has its own modding development unit and is supported by an active community.